Keep Calm And Let Me Do Your Makeup coffee mugs are selling out fast. These mugs are fun to use and great to have.
The ceramic mug
$15.80 available at Amazon (prime)
The travel mug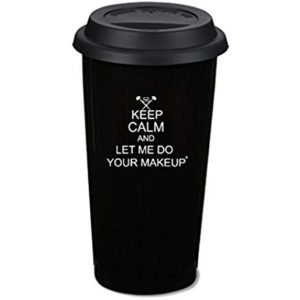 16 oz reusable thermal coffee tumbler
Dishwasher and Microwave safe
Push-on silicone lid with drink-through opening is perfect for sipping on-the-go.
A silicone stopper at the bottom of the cup prevents water from getting between the walls when washing.
$24.80 available at Amazon (prime)
To see more awesome makeup artist inspired mugs go to our shop page