As a makeup artist, one of the things I sometimes  with is finding the best tool belt to use, especially when working on location. We all have set bags and those are great, but many of us prefer to have out brushes at our finger tips and keep other essentials like loose powder in the set bag.
After researching and trying several makeup artist tool belts I decided to write this article to share my discovery with you.
Things to consider when choosing a Makeup Artist tool belt
Like foundations and the makeup we use, all makeup tool belts are different, be sure to find the one that will best suit your needs.
Make sure the belt  has enough capacity to hold your makeup brushes and a few accessories.
Will the makeup artist belt fit comfortably around your waist or over your shoulder? You don't want a belt that  has a strap that will not be comfortable or stay put.
Is the strap adjustable? If so, will it be long enough or wide enough?
Will your brush handles fit without falling?
Is the professional makeup tool belt easy to clean and care for?
Is the Makeup Artist tool belt light-weight? If the belt is heavy empty, no matter how fabulous, you may hesitate to use it because it's simply too much to carry once you add your brushes.
Makeup Tool Belts for every budget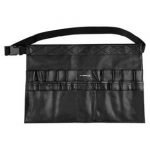 MAC Cosmetics Makeup Toolbelt – Made of durable, easy-to-clean PVC. An adjustable nylon strap secures around the waist with a snap closure for easy removal. This belt has four rows of pockets. Brushes not included $42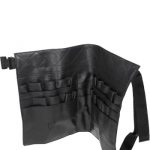 Kryolan Make-Up Artist Tool Belt – The Artist Tool Belt allows easy stowage of various tools. With a sturdy belt, the Artist Tool Belt can be worn comfortably around the waist or over the shoulder. The synthetic leather is easy to clean.(Dimensions: approx. 20 cm x 26 cm). Brushes not included $42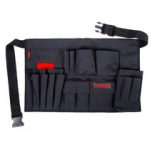 Tas Merah Poly Makeup Tool Apron – Medium -This polyester Tas Merah makeup apron features 17 pockets (3 with Velcro closing) and 1 hook to conveniently attach other bags. Please note: it is sold without items/content. Dimensions: 48cm x 31cm/18.7" x 12". Brushes not included. $38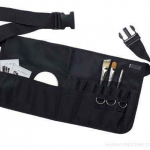 Makeup Creations Makeup Artist Brush And Tool Apron – This Professional Quality Makeup Artist Brush and Tool Apron has Perfect sized Multiple pockets for your Pro Makeup Brushes, Makeup palettes and many other personal use items. Comes with an Adjustable belt. You will love this Makeup Tools Belt. High Quality Apron Style to fit every size and shape. Brush Belt is made of an easy to clean faux leather material. Bushes not included $32
OFRA Pro Brush Belt – Dimensions  W 18″ x L 11″  belt is made of an easy-to-clean durable synthetic polyester material. There are interior pockets on the center section left and the right which are made to fit correctors/concealers, spatulas, face primer, bronzer, mineral powder, sponges or kabuki brush. Two easy to open and seal pockets for smaller makeup items are available in the center for disposable applicators, mini scissors, lash curler, cotton buds or business cards. An adjustable strap allows for the belt to be comfortably worn around the waist or over-the-shoulder. Brushes not included $24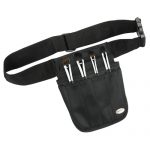 Mona Studio MST-034 MAKEUP ARTIST TOOL BELT -This tool belt with multiple pockets can hold all the important tools that an artist needs, such as: makeup brushes, powder brushes, pencils, scissors, combs, and other personal items. Adjustable belt for ideal comfort and portability. Strap can be adjusted up to 35 inches. Measurement: Length x Width x Height Dimensions: 7 1/2 x 1/2 x 8 1/2″ Brushes not included $20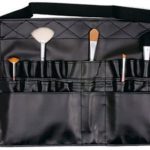 Morphe A1 Professional Makeup Brush Tool Apron/Belt Light Weight – Toolbelt made of easy to clean light weight faux leather material. Varied size pockets accommodates all brush sizes. The center pockets are also designed to hold mascara, eye pencils, lip glosses or any other slender makeup product. Adjustable strap allows for the belt to be comfortably worn around the waist or over the shoulder. Brushes not included $18.88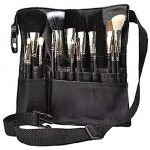 Hothouse® 22 Pockets Professional Cosmetic Makeup Brush Bag with Artist Belt Strap – A great tool belt for organizing and storing  your  professional makeup brushes collection bag.
Keep all your makeup brushes have no place to put, the brush bag design: 22 pockets with 2 big compartments, has 22 pockets to collect all the brushes and other makeup tools accessories.
The adjustable strap allows for the belt to be comfortably worn around the waist or over the shoulder. Brushes not included $13.99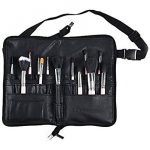 BestFire Professional Makeup Brush Bag Case Portable 22 Pockets Cosmetic Brush Holder Organizer with Artist Belt Strap PU Leather – This makeup brush case has 22 individual storage pockets to collect all the brushes and other makeup tools accessories.There are also 4 plain compartments and a  front pocket section which is good for holding business cards or mascara, lip glosses and other small  makeup items.The adjustable strap allows the brush belt to be comfortably worn around the waist or over the shoulder for easy travel. This makeup brush pouch can zip up for easy storage and keep your brushes in place when in transit.The storage bag is made of PU leather which is very soft but sturdy. Brushes not included. $10.49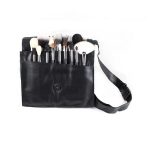 Morphe A3 Medium Hip Brush Belt – Dimensions 9 1/2″ X 9 1/4″  17-slot brush belt is roomy enough to hold all the essentials for face and eyes with some additional space for specialty and detail brushes. It's a perfect size to keep everything organized while still being easy to carry. The belt is adjustable up to 54" and the fold over flap closes with a snap. Brushes not included $10
BH Cosmetics Pro Artist Brush Belt –  A sophisticated, black apron-belt to assist makeup artists in convenient access to their tools! The exciting Pro Artist Brush Belt garment lets you store with style! A variety of multi-sized pouches and pockets neatly stashes all of your favorite brushes and tools. Brushes not included $8.99
Do you have a professional makeup artist tool belt you love? Please share it in the comments below.